MEC's groundbreaking year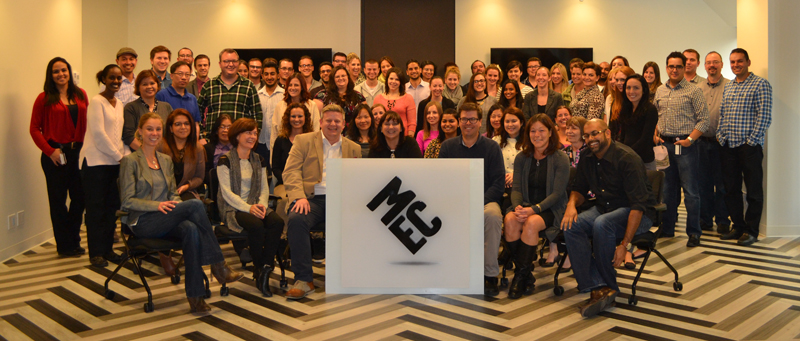 "We think that having a digital strategy is a big no–no – you have a strategy and you implement it across all the channels," says Michele Pauchuk, president at MEC Canada. "Digital itself is an umbrella for many other things."
Doing away with its digital department has been a major change that Pauchuk, who started at the WPP agency in 2011, has brought to MEC this year, spending the spring and summer months of 2014 tearing down internal walls around the division and the rest of the agency.
"There is a core group of people who have a digital background embedded into each client team, and it's their role to make sure that everyone else feels good about the digital side and then [the team] will start taking on non–digital projects, as well as digital ones," explains Pauchuk.
That multi–screen thinking is on point with recent industry research from IAB Canada and Nielsen which says nearly half of all campaigns (49.4%) will be multi–screen by 2017, versus the 24.9% planned that way now.
To keep things cohesive and current at MEC, Derek Bhopalsingh, VP of digital and innovation, checks in with the digital staffers once a week to update the information they are sharing with the larger agency group.
"Derek is responsible for looking towards the future, searching for opportunities and working with our network to make sure we have all the firsts that are available out there," explains Pauchuk.
Acting as a test case for the new integrated strategy has been recently retained client Molson Coors, with the brand's team purchasing digital pre–roll as part of its TV buy for the past two years, using a model that creates equivalent GRPs for TV and digital to make side–by–side comparisons. That model has also been expanded to other clients like L'Oréal, GE and Netflix within the past nine months. Pauchuk says the Canadian office was the first MEC outpost to combine TV and pre–roll buying in this way, helping to make it second for innovation of all the group's offices worldwide this year, based on an internal ranking system.
"The tools we are using, like the video–buying model, are really pushing the envelope," she says. "Very few people have really cracked that nut or had the guts to try something different. We are lucky that we had clients who came on board early to try it out with us."
The agency has also been working with new tools this year like a yet–to–be–named proprietary online panel, filling in the measurement gaps that exist in the market. The tool gives clients access to a panel of 1,000 people a week, 52 weeks a year, with the ability to ask questions that can be tracked alongside PMB data.
"There just isn't the depth of research necessary available in Canada, especially for smaller clients who can't afford to go out and do [their] own research," she says.
Building on that is Momentum, a new study that focuses on the customer journey and purchasing decisions of 100,000 people worldwide in both the passive and active stages of the purchasing funnel. Pauchuk says the hope is the agency's new online panel will be used in future Momentum studies so clients have a full set of data at their fingertips.
Using these tools to make campaigns that pop required new hires with more creative backgrounds than media–focused ones, like Wes Wolch, group strategy director, who formerly worked at Carat but has spent the majority of his career working client side. Pauchuk also highlights the hiring of Luke Southern, who is strategy director on L'Oréal and also brings a creative background to the team, having worked as a producer and in PR.
"We are embedding people like Wes and Luke into the planning teams to create more ideation and broaden people's perspectives when they look at what's possible," says Pauchuk. "They are bringing the best of another talent set to the table."
The space these revamped teams are working in has also seen a refresh in the past year with MEC Canada undergoing a more open–concept office design.
"We fought very hard for renovation," says Pauchuk of the agency's new look, which is still being completed. "Prior to the renos it was like looking out over a sea of grey. The offices were too much of a status symbol and everyone was always asking for one. Now we have eight offices out of 100 spaces."
What changes can be expected next from the agency? Pauchuk says it is keeping up with the rapid pace of change by making plans that look 18 months to two years down the line rather than the former five–year forecasts.
"We will continue to keep mixing things up."