Jungle Media's nimble advantage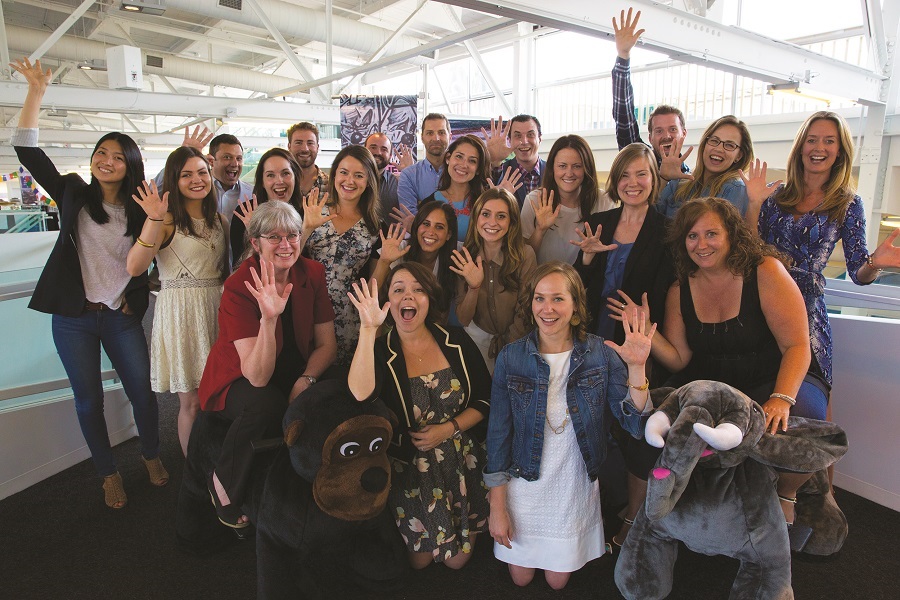 Ever been to the water taxi ballet? Thanks to Jungle Media, if you happened to be in Victoria Harbour on a Sunday afternoon not so long ago, you might have seen such a spectacle: four water taxis, wrapped in blue campaign creative, performing a synchronized feat for photo-snapping tourists.
The media agency's Destination British Columbia team worked on the campaign with an objective to grow the tourism organization's reach. Data insights suggested a social approach, since almost 50% of travellers share their experiences with their social networks. The team got cracking on a strategy that would highlight the best of B.C., and promoted it with the hashtag, #ExploreBC. The water taxi ballet was one of several activations, and by the end of the campaign, Jungle had more than achieved its targets, growing Destination BC's social media following by 20,000.
That kind of nimble, on-the-ground approach is endemic to the Jungle Media mold, which changes based on the demands of each campaign and client. In the relative scheme of things in the media world, the agency is still a baby, though some may call it the child prodigy of its time. In a five-year window this innovative shop has cultivated a growing clientele through its data-driven, strategic approach to media.
Recently, the focus has been on growing the Vision7 agency's digital value. "The last couple of years we've built our digital offering under [Vision7 Media president] Joseph Leon's lead and that is a key ingredient to any brand's success in this day and age," says Sheri Metcalfe, SVP and co-managing director at Jungle Media. "We understand and push for strong ROI insights and implications — we help clients see the value of their investments."
It owes some of its success to its age, of course. With youth comes flexibility. "With the media agencies we still see a model that's very driven by tonnage rather than tailoring," says Metcalfe. "A lot of agencies feel that that's where media is, a one-size-fits-all model, and we just don't believe that."
For evidence of its diverse approach, look at Jungle's "#ShareTheBathroom" campaign for Ikea, which marries creative, technology and media. The team brainstormed by sharing their own family bathroom woes and determined possible targets, such as dads abusing their toilet time or anonymous culprits leaving wet towels on the floor.
To personalize the messaging around that campaign, the team formed a new relationship with technology by using a real-time dynamic IP remarketing approach. That means a household member could head to
Ikea.ca and develop a custom ad targeting someone else in the home. While enjoying a trending video or reading the latest news, the target would get served an ad from a family member asking them to buy new towels, for instance, and "#ShareTheBathroom."
The campaign got 17,000 Canadians to the ad-creation page to send out 800,000 custom banners. It also led to a 12% increase in Ikea bathroom product sales.
The Ikea example illustrates Jungle Media's belief that its focus should be less on planning and buying, and more on the business strategy. "[We have to consider] the complexity of the landscape, technology and the way consumers interact with technology, how it is so iterative and how relationships are so iterative," says Metcalfe. "Understanding that piece makes a huge difference in the way businesses can go to market and engage their clients."
To produce the best possible outcomes for its clients, Jungle makes the most of its network resources, working closely with fellow Vision7 agencies Camp Jefferson and Camp Pacific, as well as Citizen Relations. In Vancouver, the agency's office shares accounts like Destination British Columbia and MTS, and with Citizen in Toronto it shares Sleeman and Ikea.
"Unfortunately, media is viewed as a commodity business when none of us are really showing value beyond what appears to just be developing media plans and booking ads ... For the clients who are smart enough to see that true value can be derived out of a relationship, cost is not the only thing that they look at."
While small and nimble, Jungle Media is growing. In June this year the agency won the Yellow Pages account, which is now among its three largest clients, along with Ikea and Capital One.
Being a smaller shop, Jungle doesn't get invited to the big global pitches, says Metcalfe, but that's not something she's too worried about. In fact, the company has picked up a host of new accounts, which include Cirque du Soleil, Mastermind Toys, Le Château, Cirque du Soleil and Chartered Professional Accountants (CPA).
"We will volunteer at events, we'll give a lot of time to brainstorm on future brand vision — we do whatever it takes," says Metcalfe. "That's how trust builds. It's organic as it's sort of 'off script' but we've always approached our client relationships this way.